In 2003, Universal Studios Florida opened an attraction centered on the green ogre and his friends. Almost 20 years in the park, Shrek 4-D is a session that brings adventure and fun to the whole family.
As it is a simulator, all ages are welcome. Thus, it is the ideal request for children and those who are most interested.
Who doesn't know the most loved ogre on the big screen? Well, Shrek is the main character in the franchise of the same name that has won over countless people all over the planet. The first film in the series was released in 2001 and the other three films, in sequence, in 2004, 2007 and 2010.
What's the plot of Shrek 4-D?
You may be asking yourself: what is Shrek 4-D like? How it works?
Well, according to the website's own description Universal, it can be said that Shrek 4-D is like a minifilm that takes place after the first film (2001) and before the second (2004).
The tour is inserted, then, at the moment when Fiona is kidnapped by the ghost of Lord Farqhaur. In the meantime, Shrek and Donkey face a mission to rescue the princess.
Therefore, whoever gives a chance for exhibition, will be watching sitting and comfortably everything that happens in the film.
A little more about Shrek 4-D
In addition, immersion in the Shrek universe is more than certain thanks to the use of 3-D glasses called OgreVision. We must also not forget, of course, the special effects, which are incredible.
You will feel splashes of water, wind on your face and a lot of adrenaline when descending a waterfall 300 meters high! It's a multisensory adventure that everyone will fall in love with!
Here, you can take a peek at what attraction is like:
The attraction in detail and the waiting time
The duration of the entire tour is 15 minutes. Initially, visitors watch an animation presentation before entering the room. After that, it's time to put on 3-D glasses, which will allow you to travel the world of Shrek.
In addition to the waterfall spoken above, there is a battle of dragons that spit fire. That is, because of the sensory effects, you feel as if it were real. Sensational, right?
Oh, and the seats also move, which means that you are literally 100% inserted in the movie.
The theater where the attraction takes place has a total capacity of 300 people. But you don't think it's too much, no, because it sells very fast. So, choose your priorities!
To secure your seat, you have to arrive early – if possible, as soon as the park opens – to try to take up less time in line. As it is an attraction designed for the whole family, especially for children, there is a lot of demand.
If you don't want to spend so much time waiting, you can make use of the Universal Express Pass. As the name says, it is a fastpass, that is, a queue cutter, to pass faster. Therefore, it is very useful in those cases where the toy is in high demand.
Remembering that this fastpass it can only be used once in a given attraction. So, to be able to cut rows more than once on the same toy, there will be a need to purchase the Universal Express Unlimited.
In another post, we already talked more about the Universal Express Pass. In it, we present a complete guide for those who are going to visit Universal's parks, and who, above all, are interested in buying the fastpass.
Locating Shrek 4-D at Universal Studios Florida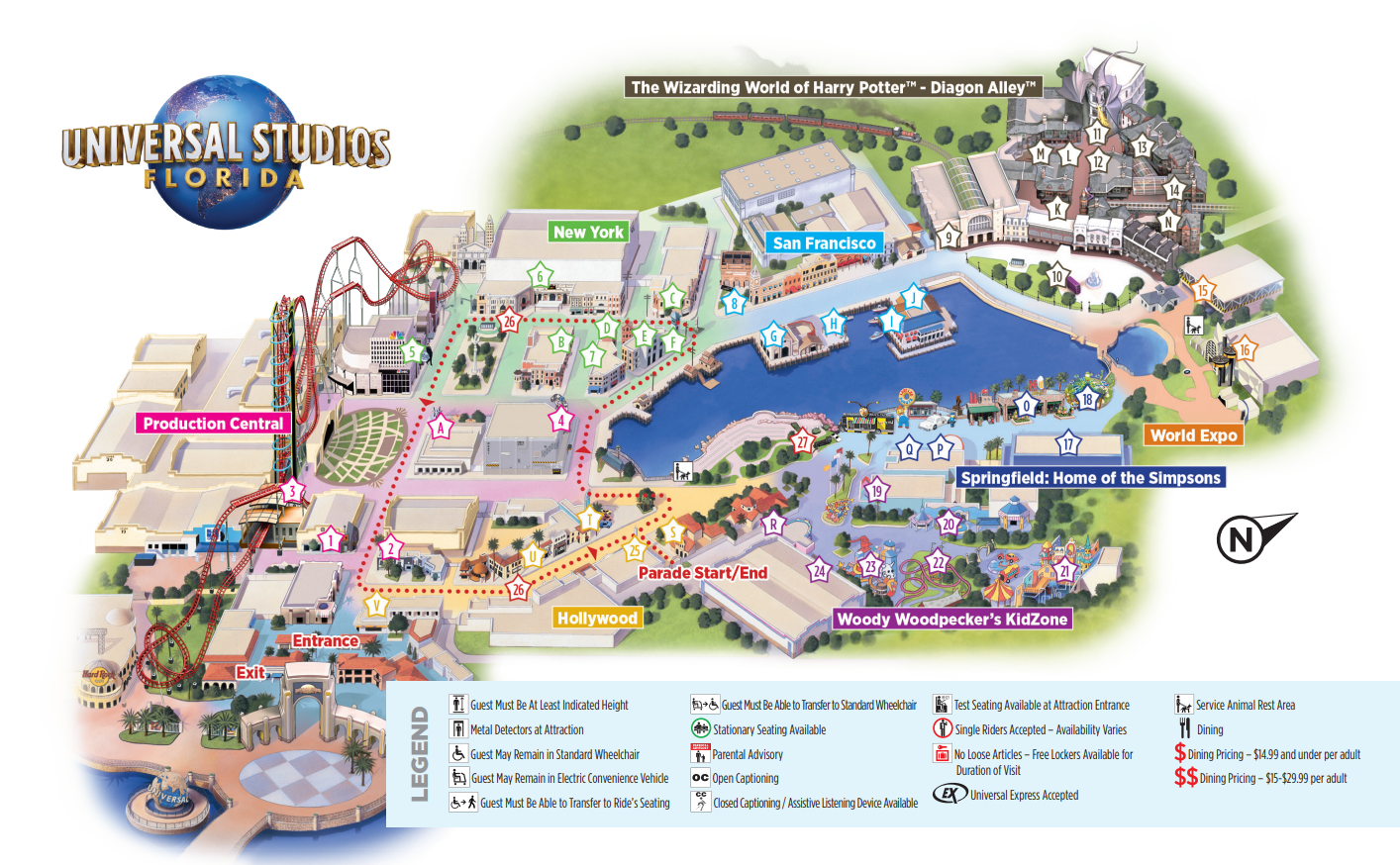 Anyone who has been to Orlando knows how HUGE the parks are. This always requires a map in hand. Whether to find restrooms, restaurants and, certainly, to find the most desired attractions. Therefore, we have separated a map from Universal so that it is easier to find.
The Shrek 4-D is very close to the roller coaster Rip Ride Rockit, the most famous in the Universal park. Located in the "complex" called Production Central, are the two toys, in addition to the simulator of minions It's from Transformers.
The Production Central is close to the main entrance, for those who enter by CityWalk. If you're going to take the ride on the Harry Potter train, you'll have to walk a little further, passing in front of the San Francisco and new York.
Universal app
Along with the printed map, you can also use Universal's app, called "Universal Orlando Resort™ The Official App", available for iOS on the App Store and Android on the Play Store.
To start using, first of all, you will have to download the application from the store of your mobile phone. That way, when you are in the park, you can access the app and check the attractions and how long to wait for each one. You can even find bathrooms.
However, remember to be connected to the internet - the park's Wi-Fi is free! - and with the GPS on, so that it is possible to recognize the area.
At the app, you can select a type of attraction, such as "Thrill" (toys that have a lot of emotion), "3D & 4D" (which is where Shrek 4-D will be), "Water" (those that get wet - it's all good !) and "Kids" (for children).
In addition, you can check the show times, where the restaurants and shops are. Therefore, everything is very well divided and explanatory.
In other words: there is no way to go wrong!
Finally, see other more recent posts related to Universal Studios Florida:
We hope again that this post has helped you in your research for your trip to Disney or Orlando.
As a way to help us maintain the blog, we just ask you to help us by sharing this publication and subscribing to our social networks as Facebook, Instagram or Youtube channel.

In addition to helping us, we are sure that there you will find hundreds of useful posts for your trip!
Guarantee the Best Trip to Disney
We know that the amount of information that involves a trip to Disney and Orlando is simply enormous.
This makes planning tiring or sometimes seem impossible!
But what if I told you that you can trust professionals to assemble a script totally EXCLUSIVE and CUSTOMIZED for you and your group?
Unlike the assembled itineraries found out there, this itinerary will take into account all the factors of your group such as ages, tastes and any profile that may change your trip.
That way you won't miss doing absolutely anything that would be amazing for you and ensure that your time is as optimized and your trip as perfect as possible!
Does it look too good? And yes, be sure to contact us and ask for your budget for a Custom Travel Script and make the best trip of your life!
Get your Parks Tickets at a Discount
Many people leave to buy their tickets arriving in Orlando or even on the day of the park.
We do not in any way recommend that you do this for a variety of reasons, such as:
If you buy tickets on the spot, you won't be able to book your park days in advance at the risk of not even being able to enter a park on a given day.
You will lose valuable park minutes in line to buy your tickets.
AND MAINLY, you will pay more because tickets at the box office are more expensive than buying in advance!
Access our sale site to buy your tickets or request a free consultation to find out exactly which tickets are the best to buy.
For free consultation, click here!
More Tips for Your Trip to Orlando
As we've talked about above, be sure to check out our Youtube channel where we give several travel tips for Orlando.
In addition we show you lots of cool things to do there, do you want a better way to plan a trip than already living a little bit of what you will see there?
If you liked this post, help us by sharing it on your social media!
This way we can reach more readers and keep bringing you high quality content!