One of rides darlings of Hollywood Studios, The Star tours it's super fun and a must see in your script if you are a fan of the saga!
And it is currently the only attraction in parks with this theme.
So let's start from the outside ridebecause when you get close you are already faced with the scenario in the photo below, and enter the mood of Star Wars!
Disney really thinks about all the details, it could only make a concrete building with a mural announcing the attraction with a cool sign, but no, it built a scenario inspired by the films, which leaves us contagious!
How is Star Tours?
The queue is super cute, and has several droids from the movie perfect for you to be impressed, like R2D2 for example, but it is not very interactive and more decorated, when what you have to distract yourself is the look of the ride.
But don't worry, as this ride you don't usually have the longest queues in the park, so you probably won't waste a lot of time in your queue.
For this reason, we do not recommend the use of Fastpass for this ride, especially with the arrival of Toy Story Land, which will now open on June 30, 2018 in the park, and will certainly gather the largest queues in the park. Hollywood Studios, so if you are going to visit the park after the opening of this new land, try to schedule FastPass for your new rides.
Now let's talk about ride! She is a simulator 3D in which you board a ship, like the one in the photo above, on an adventure, along with C3PO, you will travel at the speed of light, fight with Stormtroopers and much more!
And the most interesting of this ride is that it has several different missions, including including the most recent films, so if you go more than once in this ride, is able to live completely different experiences, as she has missions that take place in situations of all the films in the saga!
And the part that fans of the saga go crazy over, the gift shop at the exit of ride! A store only with products from the Star Wars saga, there you will find everything from Star Wars, products as far as the eye can see! From toys, to shirts, lightsabers, costumes and much more! It's really a paradise for Star Wars fans, and in this store it's not just the kids who lose control, the biggest problem is the adults who want to buy everything (Me and Carlos are an example of this lol)! 😛
Taking advantage of the Star Wars theme, let's remember that the new Star Wars Land was inaugurated in the park Hollywood Studios, a Star Wars Galaxy & #8217; s Edge! This land is close to where the attraction Star Tours and is! We talked a little more about this new Land here in this post!
Attraction technical information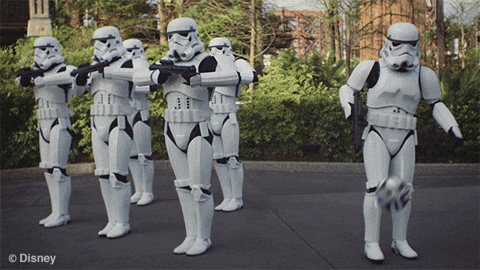 Eai, they liked to know more about the Star Tours attraction at Hollywood Studios? So stay tuned for more news about the park here on our website! To the next!! 🙂
We hope again that this post has helped you in your research for your trip to Disney or Orlando.
As a way to help us maintain the blog, we just ask you to help us by sharing this publication and subscribing to our social networks as Facebook, Instagram or Youtube channel.

In addition to helping us, we are sure that there you will find hundreds of useful posts for your trip!
Guarantee the Best Trip to Disney
We know that the amount of information that involves a trip to Disney and Orlando is simply enormous.
This makes planning tiring or sometimes seem impossible!
But what if I told you that you can trust professionals to assemble a script totally EXCLUSIVE and CUSTOMIZED for you and your group?
Unlike the assembled itineraries found out there, this itinerary will take into account all the factors of your group such as ages, tastes and any profile that may change your trip.
That way you won't miss doing absolutely anything that would be amazing for you and ensure that your time is as optimized and your trip as perfect as possible!
Does it look too good? And yes, be sure to contact us and ask for your budget for a Custom Travel Script and make the best trip of your life!
Get your Parks Tickets at a Discount
Many people leave to buy their tickets arriving in Orlando or even on the day of the park.
We do not in any way recommend that you do this for a variety of reasons, such as:
If you buy tickets on the spot, you won't be able to book your park days in advance at the risk of not even being able to enter a park on a given day.
You will lose valuable park minutes in line to buy your tickets.
AND MAINLY, you will pay more because tickets at the box office are more expensive than buying in advance!
Access our sale site to buy your tickets or request a free consultation to find out exactly which tickets are the best to buy.
For free consultation, click here!
More Tips for Your Trip to Orlando
As we've talked about above, be sure to check out our Youtube channel where we give several travel tips for Orlando.
In addition we show you lots of cool things to do there, do you want a better way to plan a trip than already living a little bit of what you will see there?
If you liked this post, help us by sharing it on your social media!
This way we can reach more readers and keep bringing you high quality content!