One of the most iconic characters in Disney's history, Lighting McQueen – or Lightning McQueen, as we know it in Brazil – has an attraction of its own at Disney's Hollywood Studios, Lightning McQueen's Racing Academy!
It's impossible not to have fun and adventure with McQueen and his friends.
Therefore, Disney decided to present, let's say, the franchise's fans: a totally detailed, technological and very interesting attraction!
Lightning McQueen's Racing Academy opened to the public on March 31, 2019, yet it arrived as part of Hollywood's 30th anniversary celebration.
Amazingly, it opened even before the debut of the new Star Wars area.
For those who are passionate about this universe of cars, the attraction is more than recommended. Come see more details!
What is Lightning McQueen's Racing Academy like?
The show it lasts for ten minutes (pretty little, go!) and visitors will then be able to come face to face with McQueen.
That is, when they enter the theater, they will be invited to be the new pilots.
With a giant curved screen, more than 15 meters high and approximately 60 meters wide, people will feel very close to the character.
He will guide everyone on the path of discovering how to be the legend of the tracks and championships.
The entire plot is based on an original story that, chronologically, takes place after the events of the third movie in the saga, Cars 3.
The high technology aimed at production is impressively incredible. The details are also jaw-dropping.
The famous car will tell you about all your racing knowledge and, besides, it will show that not everything is as easy as it looks, isn't it?
It was with the help of Mater, Cruz Ramirez and other friends that he managed to come back on top and never give up.
Can you imagine participating in a race with the legendary?
This is very possible, after all, we are talking about Disney and Cars. But whoever thinks that the show ends there is a mistake.
After leaving the auditorium, visitors will be able to have even more fun! You, Cruz Ramirez and a DJ, how about that?
Well, that's where it is: on the outside of the attraction, in a courtyard, the "novice riders" are allowed to meet Ramirez and, of course, take a picture with the trainer. Good thing!
More details of the show
The hours are varied, so the tip is to keep an eye on the park's schedule.
It occurs several times throughout the day, from Hollywood Studios opening at 9 am (9 am) to closing at 7 pm (7 pm).
The attraction is for all ages. In other words, guaranteed adrenaline for the whole family, without distinction.
In this specific attraction, it is not possible to use the fastpass +. For more information, visit the website of Disney.
Check out an excerpt from the Lightning McQueen's Racing Academy presentation:
In short, if you like Cars, fun and Disney, there's no reason not to like the attraction. So set aside that naughty time in the script to include the show in your schedule.
If you want to know how to organize and what other attractions are not to be missed at Hollywood Studios, see our post, in which we give wonderful tips!
Park location
First of all, it's important to remember that, as it's a relatively new attraction in Hollywood, many people don't know how to locate it.
That way, with the map below, you won't get lost. The attraction, however, takes place in the Sunset Boulevard area, next to the Aerosmith roller coaster. More precisely, it is indicated with the number 53.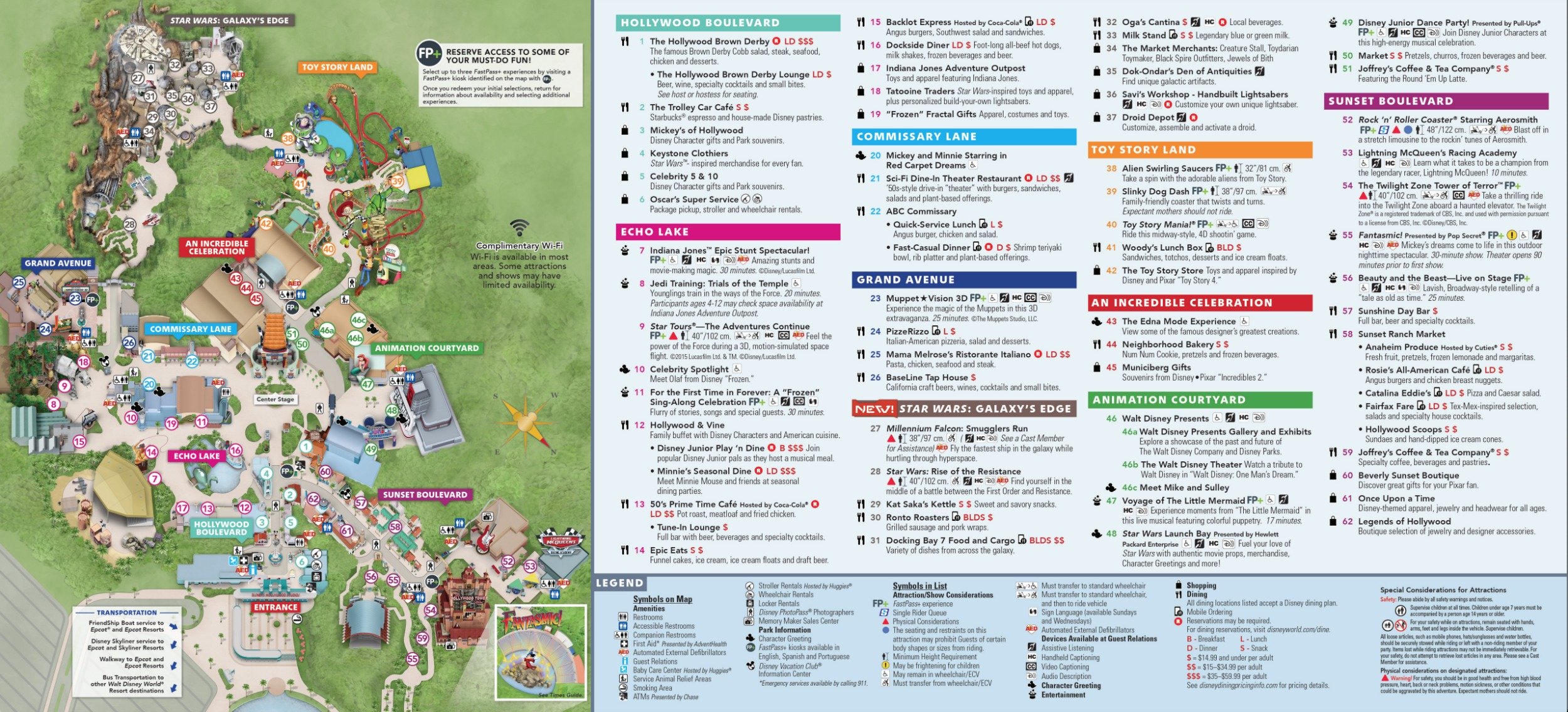 Then that's it! Be sure to check out all the amazing things that McQueen and his friends' show have to offer.
No regrets! You'll have real fun, no doubt about it.
We hope again that this post has helped you in your research for your trip to Disney or Orlando.
As a way to help us maintain the blog, we just ask you to help us by sharing this publication and subscribing to our social networks as Facebook, Instagram or Youtube channel.

In addition to helping us, we are sure that there you will find hundreds of useful posts for your trip!
Guarantee the Best Trip to Disney
We know that the amount of information that involves a trip to Disney and Orlando is simply enormous.
This makes planning tiring or sometimes seem impossible!
But what if I told you that you can trust professionals to assemble a script totally EXCLUSIVE and CUSTOMIZED for you and your group?
Unlike the assembled itineraries found out there, this itinerary will take into account all the factors of your group such as ages, tastes and any profile that may change your trip.
That way you won't miss doing absolutely anything that would be amazing for you and ensure that your time is as optimized and your trip as perfect as possible!
Does it look too good? And yes, be sure to contact us and ask for your budget for a Custom Travel Script and make the best trip of your life!
Get your Parks Tickets at a Discount
Many people leave to buy their tickets arriving in Orlando or even on the day of the park.
We do not in any way recommend that you do this for a variety of reasons, such as:
If you buy tickets on the spot, you won't be able to book your park days in advance at the risk of not even being able to enter a park on a given day.
You will lose valuable park minutes in line to buy your tickets.
AND MAINLY, you will pay more because tickets at the box office are more expensive than buying in advance!
Access our sale site to buy your tickets or request a free consultation to find out exactly which tickets are the best to buy.
For free consultation, click here!
More Tips for Your Trip to Orlando
As we've talked about above, be sure to check out our Youtube channel where we give several travel tips for Orlando.
In addition we show you lots of cool things to do there, do you want a better way to plan a trip than already living a little bit of what you will see there?
If you liked this post, help us by sharing it on your social media!
This way we can reach more readers and keep bringing you high quality content!