The attraction "Walt Disney's Enchanted Tiki Room"Is a pioneer in the animation used by Disneyland parks, did you know? That's because they were used audio-animatronics, that is, robots that simulate both animals and people.
Animatronic dolls were even invented by Disney itself.
The show's premiere took place in 1963, almost 60 years ago, at Disneyland Park, California. Later, in 1971 - eight years later -, the attraction opened to the public this time at the Magic Kingdom, in Orlando.
Initially, in Florida, he received a slightly different identity, as there were certain changes in his pre-show.
It was known as Tropical Serenade and it worked until 1997, when it was redesigned and emerged as The Enchanted Tiki Room (Under New Management) in 1998. However, a fire destroyed it in January 2011.
Soon after that, in the same year, the attraction was reopened as "Walt Disney's Enchanted Tiki Room". And it still works today, for almost ten years.
Shall we talk a little more about it?
Enchanted Tiki Room in detail
This is a relatively polarized attraction in terms of being an attraction dear to the public.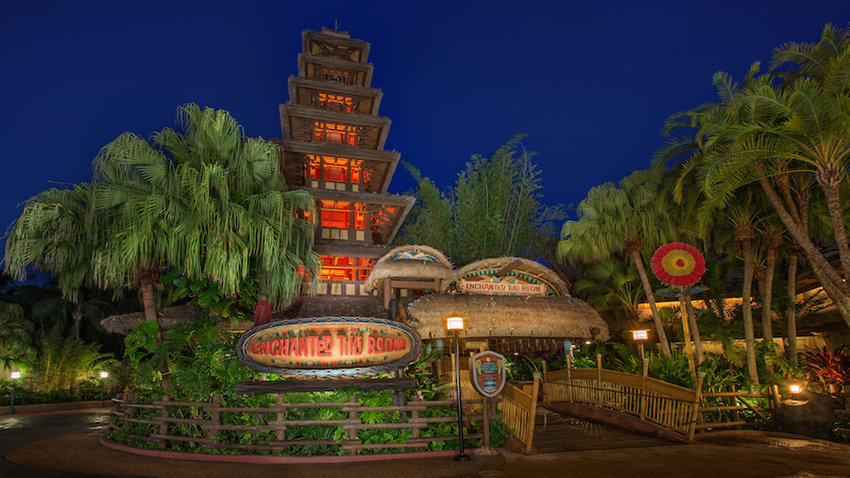 Many people hate it and some people love it. And honestly, we don't know many people who love them. Let's see what she looks like.
It basically consists of a musical presentation inspired by culture tiki American. That is, they are exotic / tropical birds, Tikis gods and many colors, these celebrated musically.
You can even sing with the birds, flowers and the Tikis statues themselves (the dolls / robots) in these Polynesian paradise portrayed at the Disney attraction.
However, after the repagination took place in 1998, however, it became The Enchanted Tiki Room (Under New Management), more dolls joined the cast. Altogether, there are more than 225 artists choreographed in audio-animatronics, according to the official website of Disney attraction.
Most are birds, but they also have flowers. Both have their movements customized thanks to technology. There are a variety of colors that are very interesting and hook you. The reality that the "little robots" go through is impressive and, therefore, it is worth seeing.
In the cast of the old attraction, there was the bird Iago, by Aladdin, and also the Zazu, by King Lion. But in the current version you can no longer find them.
The show lasts, on average, 15 minutes, not going much longer than that.
It is not a popular attraction, so there is not much line and you will not need to "waste" so much time to wait and watch.
It is very quiet, without adrenaline, but with a lot of beauty.
In turn, it is intended for children and the whole family, no doubt about it. For nature and culture lovers, it is recommended for being realistic, completely technological and different.
The attraction in the Magic Kingdom
Walt Disney's Enchanted Tiki Room is located at number 18, at park map (below), in the area called Adventureland, to the left of the park entrance.
You can take a look at the map below and find a better location:
However, it is important to understand that, due to the tastes and curiosities of each one, this attraction may not be as exciting as others in the park.
Since many people who go to Magic Kingdom are looking for unforgettable experiences, perhaps this one does not fit into that type.
It's nice to be watching, enjoying, spending time and resting, if you need it a lot.
The parks are all very large and the Magic Kingdom is no different. If you prefer, this can be an attraction to go later in the afternoon / early evening until the start of the unmissable fireworks display.
So remember to make a plan - we've already made an amazing post from ideal script for the Magic Kingdom - and enjoy the day at the park!
Finally, watch a snippet of the attraction:
Our opinion about the Tiki Room
Undoubtedly, the Enchated Tiki Room does not fit the Magic Kingdom's must-see attractions.
In fact, the very fact that it is in the Magic Kingdom makes it less prioritized, since it is the park with the greatest attraction offers among all Disney parks.
That said, we believe that if you have time to spare between attractions on your trip, it can be an option for you and your family.
Remembering that on hot days attractions where you can sit and with air conditioning are always very welcome!
Overall, we believe that the Magic Kingdom offers best attractions to include in your roadmap than the Enchanted Tiki Room.
We hope again that this post has helped you in your research for your trip to Disney or Orlando.
As a way to help us maintain the blog, we just ask you to help us by sharing this publication and subscribing to our social networks as Facebook, Instagram or Youtube channel.

In addition to helping us, we are sure that there you will find hundreds of useful posts for your trip!
Guarantee the Best Trip to Disney
We know that the amount of information that involves a trip to Disney and Orlando is simply enormous.
This makes planning tiring or sometimes seem impossible!
But what if I told you that you can trust professionals to assemble a script totally EXCLUSIVE and CUSTOMIZED for you and your group?
Unlike the assembled itineraries found out there, this itinerary will take into account all the factors of your group such as ages, tastes and any profile that may change your trip.
That way you won't miss doing absolutely anything that would be amazing for you and ensure that your time is as optimized and your trip as perfect as possible!
Does it look too good? And yes, be sure to contact us and ask for your budget for a Custom Travel Script and make the best trip of your life!
Get your Parks Tickets at a Discount
Many people leave to buy their tickets arriving in Orlando or even on the day of the park.
We do not in any way recommend that you do this for a variety of reasons, such as:
If you buy tickets on the spot, you won't be able to book your park days in advance at the risk of not even being able to enter a park on a given day.
You will lose valuable park minutes in line to buy your tickets.
AND MAINLY, you will pay more because tickets at the box office are more expensive than buying in advance!
Access our sale site to buy your tickets or request a free consultation to find out exactly which tickets are the best to buy.
For free consultation, click here!
More Tips for Your Trip to Orlando
As we've talked about above, be sure to check out our Youtube channel where we give several travel tips for Orlando.
In addition we show you lots of cool things to do there, do you want a better way to plan a trip than already living a little bit of what you will see there?
If you liked this post, help us by sharing it on your social media!
This way we can reach more readers and keep bringing you high quality content!