Located in Disney's Animal Kingdom Theme Park, O Kilimanjaro Safaris drags dozens of people who visit the park daily.
It is a guided walk through an African savannah, where animals live free scattered throughout the immense place.
The attraction opened in 1998 and has been operating ever since. There are more than 800 km² filled with animal and vegetable nature across the land.
In this way, it works like a photographic safari, in which you have contact, even if from a distance, with the animals that live there.
The place, called the Harambe Wildlife Reserve, is home to more than 34 species. There are 110 acres of land and landscapes beyond stunning.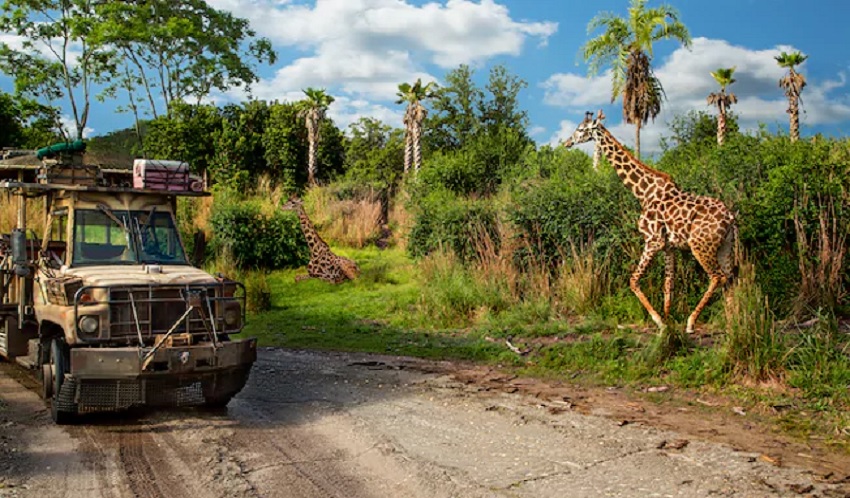 Recently, the adventure could also be carried out in the evening, after sunset, when you can see the animals' behavior without being in the morning light. Isn't it amazing?
So, come and find out more!
The Kilimanjaro Safaris Tour
The vehicle you are going to ride will have an experienced guide, who will talk a little about the wildlife, as well as showing his knowledge of the animals that live there.
The car is open on the sides, which makes it possible to have a very wide view of the animals. About 30 people will be able to go in the "small truck" at a time.
The journey lasts, on average, 18 to 22 minutes.
Even so, the whole adventure is done on a slow route, so that it is possible to take many photos and enchant with the landscape.
In other words, you don't have to be afraid, you don't have much emotion, except for the beauty of the place.
It is truly amazing how Disney has managed to reflect the animal life of the African continent within a theme park.
That is why the park is so well-liked by visitors.
Some animals are quite common to be seen in Kilimanjaro Safaris, such as: lions, giraffes, zebras, flamingos, wild boar, hippos, ostriches, rhinos, cheetahs, elephants, crocodiles and many others. For children who love animal life, it is the right tour to take.
One of the most "requested" animals, without a doubt, is the lion.
As stated above, it is essential to take the tour early to catch the animals awake, including the safari star.
In addition, it is interesting that you arrive early and go on safari as soon as you open the park, as it is a well-sought attraction and always has moderate to long lines.
So, don't leave this experience for the last minute. Plan well to get the most out of it.
How, who, when and where to go to the attraction
The Kilimanjaro Safaris is intended for all ages, with no height limit, inclusive. There is all necessary security, as well as accessibility to visitors.
The opening hours of the safari are from 8am in the morning to 7am in the evening, where the night tour takes place.
To go to the attraction, just arrive at the park and go to the Africa area, which is to the left of the place, at the very bottom. The number of Kilimanjaro Safaris is 25.
Check out the Animal Kingdom map to locate yourself:
Depending on the season, queues can exceed the wait for well over an hour.
That is, so that you can go to other attractions in the park - there are many! -, select a day that is not a holiday and / or weekend.
For sure, they are the most sought after.
It is, after all, one of the main attractions (as well as the roller coaster Everest Expedition) of the park, that's why so many people want to know the adventure.
However, you can use the fastpass + in this attraction, if you want, what helps and "advance" this waiting time.
What Animals Can You Find on Kilimanjaro Safari?
The amount and variety of Animals seen on this Safari is really impressive.
Naturally it is not at all times that it is possible to easily see all animals, after all they are living beings, so they eat, sleep at different times of the day.
Having said that, the first tip I give here is, as soon as you get in the car you can see all the animals that are part of the tour on a "strip" that is on the top of your vehicle. In the photo below you can see well:
But as everything here on the blog is made to help you, dear travelers, here is a brief list of some of the animals that you can find there!
Lion
Okapi
Ostrich
Warthog
White rhino
Gnu
Wild dogs
Zebra
Antelope
Baboon
Black rhino
Cheetah
Crocodile
Elephant
Flamingo
Gazelle
Giraffe
Hipoppotamus
Hyenas
The driver of your car is your guide and he will always speak to the animals that are in sight during your journey.
Naturally he speaks English so those who understand English have an advantage in understanding what is being described.
Is it worth doing the Kilimanjaro Safari?
Yes!
It is one of the attractions that we most like to do in Animal Kingdom. We know that many people have problems with animals in captivity as if it were a zoo.
It is an incredible attraction especially for those who love animals and for children. We always see super happy children all the way!
And of course, it is not every day that you have the opportunity to see animals that closely, for example, Giraffes sometimes stop in the middle of the road and you will have to wait for them to leave in order to pass and the car passes very close to them!
We understand this well, so much so that we researched a lot about the treatment of Animals within Disney and it is really incredible.
Many animals rescued and they have incredible care.
It even has a really cool series on Disney + that shows how veterinarians and caregivers of these animals interact with them, her name is "Animal Kingdom Disney Magic".
It is very incredible!
Technical information
Location:  Animal Kingdom - Africa
Minimum Height:  It does not have
Attraction duration time:  18 minutes
Recommended for:  All ages
Do you accept FastPass + ?: Yes
We have already done a one-day itinerary at Animal Kingdom and we are sure that it will help you when setting up your travel plan.
So, how about checking it out? Click on here to see our tips and have a more than fantastic experience.
Finally, be sure to enjoy the attraction and have fun in the park!
We hope again that this post has helped you in your research for your trip to Disney or Orlando.
As a way to help us maintain the blog, we just ask you to help us by sharing this publication and subscribing to our social networks as Facebook, Instagram or Youtube channel.

In addition to helping us, we are sure that there you will find hundreds of useful posts for your trip!
Guarantee the Best Trip to Disney
We know that the amount of information that involves a trip to Disney and Orlando is simply enormous.
This makes planning tiring or sometimes seem impossible!
But what if I told you that you can trust professionals to assemble a script totally EXCLUSIVE and CUSTOMIZED for you and your group?
Unlike the assembled itineraries found out there, this itinerary will take into account all the factors of your group such as ages, tastes and any profile that may change your trip.
That way you won't miss doing absolutely anything that would be amazing for you and ensure that your time is as optimized and your trip as perfect as possible!
Does it look too good? And yes, be sure to contact us and ask for your budget for a Custom Travel Script and make the best trip of your life!
Get your Parks Tickets at a Discount
Many people leave to buy their tickets arriving in Orlando or even on the day of the park.
We do not in any way recommend that you do this for a variety of reasons, such as:
If you buy tickets on the spot, you won't be able to book your park days in advance at the risk of not even being able to enter a park on a given day.
You will lose valuable park minutes in line to buy your tickets.
AND MAINLY, you will pay more because tickets at the box office are more expensive than buying in advance!
Access our sale site to buy your tickets or request a free consultation to find out exactly which tickets are the best to buy.
For free consultation, click here!
More Tips for Your Trip to Orlando
As we've talked about above, be sure to check out our Youtube channel where we give several travel tips for Orlando.
In addition we show you lots of cool things to do there, do you want a better way to plan a trip than already living a little bit of what you will see there?
If you liked this post, help us by sharing it on your social media!
This way we can reach more readers and keep bringing you high quality content!